LA travel notes
1. Reading John Green's books on the airplane is a Very Good Idea, because they make the time pass quickly and pleasantly. (
Katherines
out,
Alaska
back.)
2. Reading John Green's books on the airplane can be disconcerting to other passengers (and, if one gets embarrassed about such things (which I do not, by the way, but I know folks who do), to the reader as well). Because all the laughing aloud and, in some cases, visible distress and crying, may draw attention.
3. Baggage claim sucks in LA, and sucks harder in Philadelphia.
4. The Super Shuttle in LA may be cost-effective, but having spent the better part of an hour driving around the airport to make sure that everyone was uncomfortably wedged in before he'd head to the hotel, I can say that I'm not sure it's worth it. Although I did meet Kim (aka
kidlit_kim
) when she trundled into the van.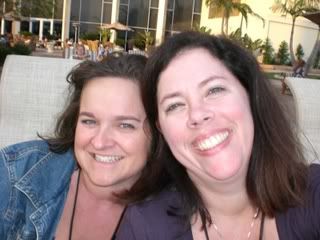 Kim and I hanging by the pool
LA hotel notes
1. The Hyatt was a bit streaky in its customer service when we got there -- they botched people's reservations (Lisa Schroeder and John Green among them), and my room wasn't ready yet. As in, at 10:30 at night, it hadn't been cleaned yet. All together now: Ewwww.
2. The Hyatt jumped on making things right. So my roommate,
juliewinkler
and I were comped a room service meal that night, plus we got free breakfast for the duration of our stay. Maybe it was because I hugged the desk guy? Or maybe not. But I did hug the desk guy.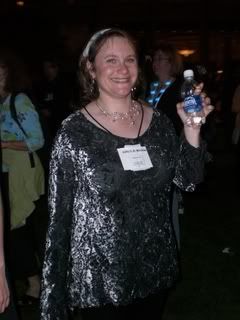 Roommate Julie Winkler
3. There was a giant eye in the middle of the road in front of the hotel. Julie Winkler says it's to do with CBS, whereas I believe it has something to do with
A Series of Unfortunate Events
.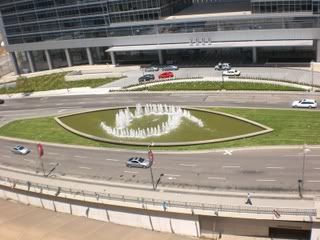 I suspect Count Olaf was in the red car, but cannot be certain.
4. The conference rooms were great. The area where they did critiques was odd. Oddly odd. Like "they'd carpeted part of a parking garage" odd. The visible janitorial equipment (which resembled mini-Zambonis) didn't add to the ambiance in there.
5. The food provided for scheduled events was good.
6. The food provided for sale was overpriced ($7.50 for a terrible sandwich, $4.25 for a 12-oz. can of soda, $3.00 for a bag of chips (the size that's usually 99 cents at 7-11). Thank heavens for the nearby mall.
7. The restrooms were always clean, functioning, and well-stocked with toilet paper. I've been to enough conferences to know that's not always the case, and I really appreciated it.
Children's Writers are Wonderful
1. I loved seeing people I'd met before, like
carriejones
and Greg
tem2
.
Carrie hates getting her photo taken!
2. Meeting blogging friends was like coming home. Here's who I remember meeting (with apologies to anyone whose handle I may have forgotten):
kidlit_kim
,
lisa_schroeder
, Tammi
tamarak
,
cynthea
, Anastasia at
Create Relate
, Nancy
naturespeak
, Stephanie from
coloradowriter
and
Adventures in Writing
, Jay and Robin from
Disco Mermaids
(I somehow missed meeting Eve), Meg
bluemalibu
,
pamm
, Kelly Herrold
Big A little a
, Sarah from
Finding Wonderland
, Heidi
seaheidi
,
jenlyn_b
, Jo
jo_no_anne
,
lisayee
, Stephanie
sruble
, Gregory K
Gotta Book
,
liz_scanlon
.
3. I met some new blogging friends, too: Lindsey
grizzlygirl1
,
lisaalbert
, Flora
fdoone
,
kimberleylittle
to name four.
4. John Green
from Sparks Fly Up
and Lisa Yee
lisayee
and Linda Sue Park
lsparkreader
are even nicer and smarter in person than they appear on their blogs and in their books, and that is saying something.
5. Lee Bennett Hopkins is a wonderful, wonderful man. More on that later in the post.
Take-aways from the speeches and whatnot
1.
Walter Dean Myers
is a god. No, really -- that's what he said. When he writes, he's god, and so is every other writer: "Everybody who wants to write, creates a world." If you include enough details to make the character come alive to the reader, you've done well.
2.
Peter Brown
writes what he knows, but he writes about emotions and qualities like curiosity, resourcefulness, frustration, creativity and uniqueness. He said that the mark of a good picture book is that you can still get something out of it on repeat readings.
3.
Emma Dryden
emphasized that kids are trying to find a way to grow up, and to face their fears, even in what she referred to as a "media-multitasking" world. The issues are the same as kids have always had; they fear the future, being alone, being different, being "the only one", abandonment, and losing a loved one. And through books, kids can learn to find the light. Kids need "connection, identity and hope."
4.
John Green
says that all writing is an act of translation as much as it is an act of creation -- you're taking an image from inside your head and trying to make it real to others through the use of words. And yet, if a writer does it correctly, a reader
feels
like it's an act of co-creation. In addition to his keynote, I also saw a breakout he did with his editor, Julie Strauss-Gabel, in which John emphasized that a novel is not created only by the author, but in collaboration with an editor, and that a book happens (or doesn't happen) in revision.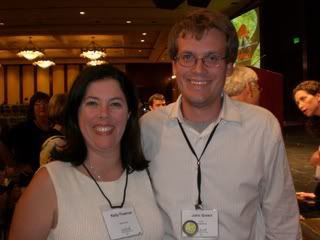 Nerdfighters!
5.
Kadir Nelson
is hot. But I digress. He was extraordinarily motivational, really, because of his passion and his obvious integrity. After noting that "nothing denies negativity like beauty," he talked about taking negative energy and turning it into a positive by using the energy to create something else, be it a picture or a text. He also said that everyone's trying to get "there," but that "there's really no 'there' -- you have to keep working."
6.
Rubin Pfeffer
, Senior VP and Publisher at S&S trade imprints for children, said that "a great book is one that sends a child off to read another book." He emphasized that writers should not allow the current state of publishing to influence their writing decisions.
7.
Ellen Wittlinger
made me cry. She was witty and earnest and inspiring. She talked about teens developing what she calls a basement -- it's the necessary looking inward that comes with their development, a sort of heavy inner life. It was her obvious love for teens, and in particular her desire to help GLBTQ teens to feel not so alone (and to help other teens to see them as being just people, as they are) that moved me to tears (in case you were wondering).
8.
Linda Sue Park
and her editor,
Dinah Stevenson
from Clarion, talked about creating books together. Their mutual respect and admiration was nearly palpable. From Linda Sue: "The story is more important than me or my feelings." From Dinah: "The editor isn't your teacher or your mom." (Meaning that you don't
have
to listen to them all the time. But you should at least try what they're saying, in case they were right.)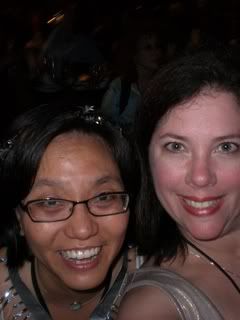 Linda Sue laughs as Kelly makes crazy eyes at the camera
9.
Marla Frazee
and her editor,
Allyn Johnston
from Harcourt, talked about making picture books together. I was vastly entertained, so much so that I took almost no notes -- but I did like Allyn's assertion that for her, picture books need an emotional core: something that breaks your heart open so you can make a connection.
10.
Kirby Larson
made me cry too. She opened with a movie (which rocked). She offered a few concrete tips about reading as a writer, then talked about her publication journey and the need to "write through the bad stuff." But it was when she spoke about her dead grandmother pulling strings for her Newbery honor win that tears spilled.
Here I am, hoping some of Kirby's talent will rub off on me
11.
Lisa Yee
spoke about ethnic diversity in literature. Bottom line? If you're going to write about someone of a different race, religion, gender, background or sexual orientation, you'd better get it right. Along the way, she noted that the trouble with labels is that they're easy to put on, but not very easy to get off.
Note that Lisa is actually much taller in person
12.
Lee Bennett Hopkins
noted that "all writing is poetry." And then tore the place up with a bunch of excellent poems.
Random bits and bobs
1. I love Carrie Jones. She is so seriously talented, and so unaware of how really brilliant she is. And no amount of trying can convince her otherwise, but I've got her number. And two more copies of her book,
Tips on Having a Gay (ex)Boyfriend
, because what my kids wanted most from the conference were signed copies for themselves. Before the stickers go on. And Carrie's hubby, the D-man, is a wonderful, wonderful guy. And not just because he bought me drinks.
2. I love Lee Bennett Hopkins. And I will probably be unable to articulate why, and how much, exactly. He is warm and kind and nurturing and supportive. He loves poetry, and poets. It emanates from him almost like visible light.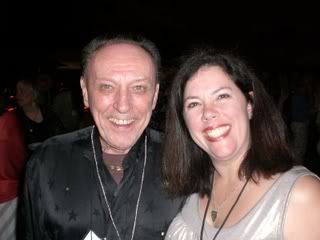 I heart Lee
3. Cecil Castellucci is a force of nature. Gracious, witty, warm and honest -- just as you'd think she is from her blog.
Coming soon: More photos. And further rambling. You've been warned.
Because so many folks posted excellent notes already, and because I'm still hung over from cross-continental flight (or at least that's what it feels like), I'm going with lists today. Because I can do lists, but actual paragraphs seem a wee bit daunting right now.
Current Mood:

satisfied

Current Music:

I Married Her Just Because She Looks Like You by Lyle Lovett