deenaml
), and to see my good friend Rita (
ritajr
), whom I've not seen in far too long, my friend Jenn (
writerjenn
), who recently started a blog (and signed with an agent -- woot!), and to see some of my Eastern PA friends like Marilyn and Laurie and Cathy and Ellen and Cherie. (Great — now I sound like the lady on Romper Room, looking through her magic birthday mirror.)
Here are my thank-you notes to some of the presenters:
Dear Dianne Ochiltree:
Thank you for your "spaghetti" approach to talking about picture books. Quite a bit of what you threw against the wall stuck. I really liked your point that picture books are deserving of lots of time and research, and that they need what all good stories need (besides a beginning, middle and end): good characters, strong settings, active plots, lively pacing and an emotional payoff, all without being preachy or teachy. You rock.
Dear Stephen Barbara:
Thanks for the advice on how to be a highly effective novelist, even if novels aren't exactly my milieu (yet). Some of what you said applies anyway, like your advice that writers need to be keyed into stories that matter to people, and be passionate story tellers. Also, your point about geniuses was, well, genius. I didn't know that one of the commonalities among geniuses is the act of repetition. Your point is well-taken, and I will continue to write and revise.
Dear Joyce Moyer Hostetter:
Your discussion of writing historical fiction was terribly useful to me, even though I'm writing biography (which is theoretically nonfiction). Your dedication to research and to nailing down the details of a time period by looking at other primary sources, including popular music, prices of goods, and more, is really inspiring. I'll be checking out
your blog
more often!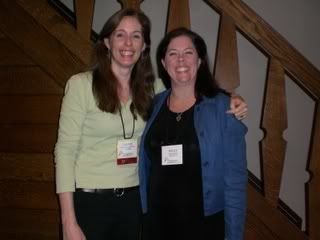 Dear Laurie Halse Anderson:
Thanks for the encouragement, which you gave me both privately and as part of your presentation. Your advice to keep the business/career part of writing in a little box and to make the writing part of writing the central core was something I needed to hear. As was your admonishment to decrease internet, TV and movie-watching time. To say nothing of your exhorting all of us to get off our asses and run/walk/swim a bit each day, not just as a health benefit, but as a boon to our writing. You so rock. Thanks also for the shout-out on
your blog
.
The next
Eastern PA
conference is the Poconos conference in the spring. Guests will include T.A. Barron and Jordan Sonnenblick. Keep your eyes out for that one, if you're interested, because it fills up fast!
On Saturday, I went to the Fall Philly conference held by the Eastern PA SCBWI chapter. It was wonderful to meet the extremely cute and bubbly Deena (
Current Mood:

cheerful

Current Music:

The Irishman, from Jane Austen Songbook (brainradio)