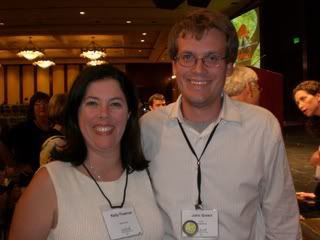 The photo is of John and I in LA, because I wasn't about to wait while more than 300 people had books signed in order to get a photo from this trip. Particularly when I had a 2-hour drive ahead of me. Moreover, the intrepid M (who is a huge John Green fan, having read
An Abundance of Katherines
,
Paper Towns
, and
Let it Snow
) was ready to leave after getting her new copy of
Looking for Alaska
signed by John. She insisted we buy a second copy for her Language A teacher at school - how sweet is that? She also got her CD of Hank Green songs (Title:
So Jokes
)signed by Hank, and was thrilled when she scored two high fives from Hank.
The event was, as one might expect, made of awesome. John read a few excerpts from
Paper Towns
. Hank sang a number of songs, as did Nerdfighter Lauren Fairweather, who sang two songs, including "Nerdfighter Like". Then Hank and John took questions for a while, and Hank closed the gig with a set of three more songs, including "Helen Hunt," "Queen Ranavalona I" and "Accio Deathly Hallows."
M and I listened to the CD all the way home. M is particularly fond of "I'm Gonna Kill You," as I knew she would be. I know this from how many times she pressed repeat. Also popular with her? "Book Eight" and "Accio Deathly Hallows".
Oh, and that interview? It's for next week's Winter Blog Blast Tour. Look for me to have an interview of Emily Jenkins on Wednesday, John Green on Thursday (assuming those answers really are on their way), and J. Patrick Lewis on Friday. I know! (Picture me doing the Izzie-from-Grey's Anatomy "rock star" thing right about now.)
Current Mood:

cheerful

Current Music:

It's Too Hot by Hank Green (brainradio)
kellyrfineman
Latest Month
March 2017
S
M
T
W
T
F
S
1
2
3
4
5
6
7
8
9
10
11
12
13
14
15
16
17
18
19
20
21
22
23
24
25
26
27
28
29
30
31