a few housekeeping sorts of items:
1. The final contest of the month is still open until midnight tonight.
If you've been enjoying the month of Bard-related posts, I hope you'll enter by posting a Shakespeare poem on your site and dropping a link on
the contest post
to qualify to win a copy of the Folger Shakespeare Library edition of
The Sonnets
.
2. Later today
you can expect at least two more posts related to
A Midsummer Night's Dream
. You can also expect a Shakespeare poetry post today, since I do have a fondness for posting a poem of a Tuesday.
3. Tomorrow,
you will find a complete directory of my "Brush Up Your Shakespeare" posts (kind of a Table of Contents, if you will). Also tomorrow, a list of biographies of Shakespeare that I've looked at during the past six weeks or so.
Plus, in non-Shakespeare news:
M's book review of
Shiver
, the forthcoming novel by Maggie Stiefvater (which I'll be reading tonight and/or tomorrow myself, since M has been pestering me about it for over a week now).
4. Thank you to all of you who have read and commented on the Shakespeare posts this month
- it's been fun to engage in a dialogue of sorts with so many folks.
Special thanks to my brother,
Major Keith Ramsdell
, and to
Tessa Gratton
for engaging in quite public dialogues with me on
Henry V
and
Othello
, respectively.
Special thanks to
deenaml
for sending me the VOYA article and to
my "mystery donor"
for sending me the full season of
Slings and Arrows
on DVD. I watched all three seasons as the plays came up (interestingly enough, in the order I'd already set for them:
Hamlet
, then
Macbeth
, then
King Lear
) and they were inspirational and educational and entertaining.
And again, special thanks to
Kevin Slattery
(
slatts
), who designed the lovely logo I've used (in part or in full) throughout the month: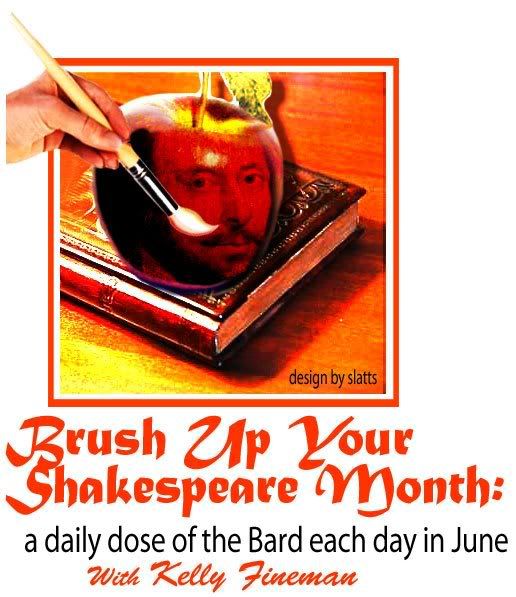 Thoughts on the month
I undertook a month of Shakespeare-related posts after more than 20 people said they thought they might like to read such a thing, and in part to keep myself completely occupied during a difficult time in life (what with hubby having started chemotherapy for Hodgkins lymphoma in May). I started preparing for the month's worth of posts in early May, but I can assure you that I remained exceedingly busy all the way through June as well (and still have to write any remaining posts for today). All that reading and thinking and typing and whatnot achieved its purpose, however, and I have indeed been quite busy, which helped distract me from my real-life situation enough that my head is now in a better place than it might otherwise have been. So thank you to all of you for letting be blather about the Bard all month.
When all is said and done this month, I will have written more than 60 posts on Shakespeare, with a particular focus on 12 plays and just over a handful of sonnets. And guess what? I'm not tired of the Bard. So
I've resolved on two things going forward: One
, I will continue doing Shakespeare-related posts here. I mean, I've always done them anyhow (clicking on the "shakespeare" tag will prove that out), but I think I'll probably post something Bard-related on, say, Wednesdays from now on.
Two
, I am seriously considering reprising "Brush Up Your Shakespeare Month" come next June. After all, there are still so many poems and plays to talk about (and so much more to be said about some of the ones I've already mentioned).
Today is the last day of Brush Up Your Shakespeare Month here at Writing and Ruminating. In a moment, some thoughts on that, but first
Current Mood:

cheerful

Current Music:

Brush Up Your Shakespeare from Kiss Me, Kate (brainradio)