Today, I'm talking about snow. To be specific, I'm talking about
Robert's Snow.
(
Collapse
)
Today, I'm featuring a somewhat non-traditional snowflake by a decidedly non-traditional artist, Chris Demarest. Chris has over 25 years in the children's illustrating business, but his recent interests have moved to action-based artwork and even novel-writing. As Chris notes on his nascent blog,
Adventure Man
, his illustration work "led to books on firefighting, hurricane hunters and the USCG. In 2004 I became an official artist with the Coast Guard. In May 2006 I was sent to the Persian Gulf to live aboard patrol boats and now nine pieces of art from that experience are in their permanent collection." You can view some of Chris's other artwork at his
online gallery
. Chris has also been riding with medevac teams in New Hampshire. Yes, the kind in helicopters.
With all his bold colors and action/adventure bent, his choice of subject for this year is a bit of a surprise. "Must be the rebel in me," says Chris. "I wanted to do something fun. This time I had been thinking about Degas sculptures and it hit me that the snowflake might make the perfect tutu. I also wanted, by doing a wire sculpture, something that could literally stand on its own and not be suspended."
Tutu? You betcha. Chris got to thinking about
La Petite Danseuse de Quatorze Ans
("The Little Dancer, Age 14"), a sculpture created by Edgar Degas in 1880 or 1881. Degas met and sketched an actual 14-year old named Marie van Goethem. To create the original sculpture, Degas made a three-quarter life-size reddish-brown wax sculpture of her in the nude, standing in fourth position, and then dressed the sculpture in clothing made of real fabrics - a bodice of cream-colored silk, a tutu made of tulle and gauze, and fabric slippers. He also gave the statue real hair tied with a silk ribbon. The contemporary art world was shocked by how realistic the piece was. Copies of the piece, cast in bronze, can be seen in premier art museums throughout the world. She can be seen at the Metropolitan Museum in New York, the National Gallery in Washington, DC., the Philadelphia Museum of Art (although she's currently not on display there), and more.
Isn't she beautiful?
And here is what Christopher Demarest came up with, a piece he calls
"L'Hommage a Degas – Little Ballerina – la Petite Danseuse"
: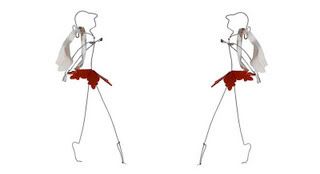 I am so bidding on this sculpture/snowflake, although I worry it will turn out to be too rich for my blood (the bidding opens at $100). Still, one never knows, right?
La Petite danceuse
will be auctioned off during the
third auction
period between the dates of December 3rd and December 7th. For those of you minding your tax deductions, please note that you may deduct the amount of your bid less $25. So a snowflake going for $200 would net you a tax deduction of $175.
Those interested in seeing more of Chris's work can check out his many books in print. As for upcoming works and exhibits, if you're in or near Lebanon New Hampshire in March of 2008, by all means stop by the Dartmouth Hitchcock Medical Center and check out the exhibit on their helicopter medevac crew: DHART (Dartmouth Hitchcock's Advanced Response Team).
Chris is a repeat snowflake-maker. Of the experience he says, "It's been a privilege to be included every year in this venture. I'm only sorry Robert's cure wasn't complete."
Check out today's other featured snowflakes!
* Mark Teague, featured by Tricia at
The Miss Rumphius Effect
* Sharon Vargo, featured by TadMack and a. fortis at
Finding Wonderland
* Jarrett J. Krosoczka, featured by Jules and Eisha at
Seven Impossible Things Before Breakfast
* Rose Mary Berlin, featured by Charlotte at
Charlotte's Library
* David Macaulay, featured by Melissa Wiley at
Here in the Bonny Glen